Reading books to children brings an enormous amount of benefits, from emotional bonds between adults and children, to language learning, to expanding children's imagination and to fostering the love of books.
You do not have to wait the bedtime to read a book to your child. You can have some reading time during the day, and enjoy being with your child, spending some quality time, and get lost in the imaginary worlds that the books provide. Your child needs to listen to your voice, see your mimics and reactions to the stories taking place in the books... The more he enjoys reading the books with you, it will soon become a good habit and you will see your child blossoming into this bookworm that loves to discover new worlds...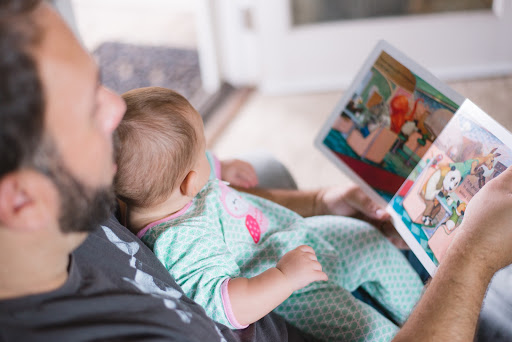 But how do we choose a good children's book?
A good book should have nice and eye catching, peaceful illustrations to start with. Checking the book's pictures, one thing you can see is how the illustrations look. Do they look peaceful? Do they look spooky? Observe the pictures and you will should a clue what the story is all about. Make sure to choose books with bigger artworks that catch children's attention and memory. You do not have to stick with the text of the book, you can always look at the pictures and talk about the images in the background, and relate them with the story.
A good book contains characters who leave a good imprint in our children's minds. What traits or characteristics do we like our children to acquire from the characters of the books we are reading to them? This is an important point that parents must consider.
Imagination Enhancement
The more you reward your child with new stories, they will have the idea of the real world and imagination. This will enable your child to be able to make imaginary games and boost their imagination. Seeing unicorns, dinosaurs, princesses and many more story characters that are not realistic will expand their imagination more and more as you read...
Vocabulary Enrichment
Books with rhyming words, repetitive sounds, and sound patterns make it easy for children to remember words. You can make up some funny games with the rhymes, you can even create your own song to the book. Your child may not be able to understand every word you have said during the first readings, but children love to repeat what they enjoy with their parents. The more you read, the more your child will understand the wording and the expressions.
Lesson of the Story
What lesson do we like our children to learn? Good manners, love, embracing diversity, helping others, respecting elders, friendship, name it. If you do not have time to pre-read the book to understand the moral of the story, you can always make a quick research in Google and find out what the book is all about.
Trouble choosing the right book?
If you have to choose your books online, we advise you to check out the story from internet first. You can find a good publisher or a writer & illustrator duo that you trust and get their books if you feel like you are stuck.
Making sure the books are fine...
Please make sure that you point out the importance of treating our books nicely to your children, to be able to read them in the future... You can kindly say "No, ripping the pages and painting the books is not good", and later when everything is settled you can tell about how important books are for our lives. You can always repair the books with your child if they are damaged.