You have a pre-schooler, you have a car. Do you have your carseat?
As Kidz International Pre-school, we believe it's our mission to ensure that we share our knowledge with our parents, and make the best of the collaboration. We are planning to focus on this subject in March.
We can not emphasize the importance of a car seat. Car seats are vital for the children. If you do not have one yet, please put this on your to do list, for today. Buying a car seat does not have to be so complicated. Cars seats also have many kinds and brands, and it may become frustrating to choose one. We will guide you through, and make it easier for you to choose the best option for you and your child.
Budget or Luxury Seat?
You can find yourself a budget car seat, what will keep your child safe and cosy. Or you can always go with a luxury brand. You can choose both ways, as they both will keep your child safe during your trips.
In my case, we have two cars. One car is our family car, that one has a luxury one, and the other car has a budget one. My daughter enjoys them both and they both work for us. So I can tell you that it is a matter of budget, and a car seat is always better than your child being unprotected during your trips.
Watch out for appropriate usage for your child's age
The journey of a car seat starts with rear-facing, when your baby is an infant, although it is recommended by The American Academy of Pediatrics, most of the parents do not put their children rear facing, because they do not feel comfortable not to see the baby while driving. However, rear facing will be much safer if you consider a crash's pressure on the baby's neck, as long as you keep them on the rear seat.
Please read the seating information carefully and choose your child's seating position that is the most appropriate.
https://www.childcarseats.org.uk/choosing-using/positioning-child-car-seats-in-cars/
Be consistent and do not give up on crying
You are responsible of your child's safety, and crying will not change this fact. Just be consistent about the carseat and do not compromise in any circumstance. Your child will understand that it is a rule that can't be broken, and crying will stop eventually.
Most of the children will understand how important a carseat is, when they face a strong break. Just let them remember that car seat is safe for them and it is a must.
When it comes to buying a carseat, there is a variety of choices you can pick from. Please go to a shop and buy a car seat for your child, it is never too late.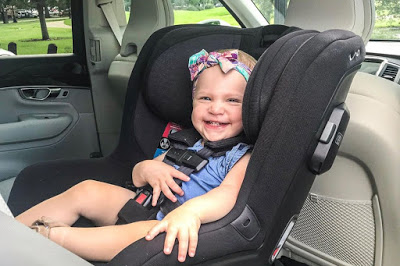 Where to buy the car seat from?
You can check Lulu, Baby Shop, even Mothercare for budget car seats. There is Just Kidding in the Gate Mall, if you are looking for a luxurious car seat. You will be using it for a long time, and you will be driving your car with a peace of mind, knowing your child will be safe in case of an unexpected break or a crash, which may happen anytime.
The second hand option is only recommended if the car seat has not been in any accident, and is washable.
Please see this car seat guide to have more information on your choice. However, if you feel frustrated with the wide variety, you can simply visit a shop and ask for the car seats that are available and matches your child's age range.
https://www.safekids.org/ultimate-car-seat-guide/basic-tips/buying/
Tips from us 
Choose a model that is positioned a little bit laid down at the back, so your child's head does not drop in front while sleeping. Instead, he will lay his head back and be much more comfortable. 
If there will be any cases that you want to move the car seat from one car to another, buy a seat that does not have isofix, which is attached to the car seat, in the car and not very practical to move from one car to another.
If you are travelling with taxi and you want to make sure your child is safe, you can buy a budget car seat that is attached with only the seat belt.
You can always ask us for more tips at school, we will be happy to help you out. In the meanwhile, we have found this article for you, if you would like to have more detailed information.
Check out Hamad Hospital's website for more information
https://www.healthychildren.org/English/safety-prevention/on-the-go/Pages/Car-Safety-Seats-Information-for-Families.aspx
Check Out Hamad Medical Corporation's Awareness Campaign took place in 2017.