| | |
| --- | --- |
| Posted on November 16, 2020 at 6:40 AM | |
We are aware that we all are struggling for a long long time with uncertain lifestyle, and we have been carrying a lot on our shoulders for a long time. We are sure you have been trying to find ways to spend some quality time with your little ones. This week, we have made Play-Dough at school and we thought its the perfect opportunity to share a recipe with you, that you can make together at home. You can even ask your child to teach you how to do it, providing the necessary ingredients.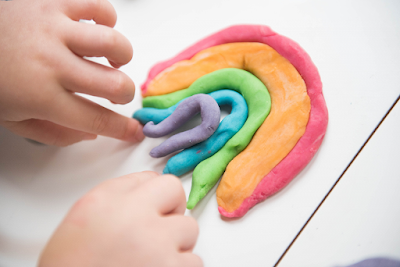 Get creative and make your child's favorite color dough, making pasta, pizza, cupcakes and many more things....
You will need,
8 tbsp plain flour
2 tbsp table salt
60ml warm water
Food colouring
1 tbsp vegetable oil
The method:
1. Mix the flour and salt in a large bowl. In a separate bowl mix together the water, a few drops of food colouring and the oil.
2. Pour the coloured water into the flour mix and bring together with a spoon.
3. Dust a work surface with a little flour and turn out the dough. Knead together for a few minutes to form a smooth, pliable dough. If you want a more intense colour you can work in a few extra drops of food colouring.
4. Store in a plastic sandwich bag (squeeze out the air) in the fridge to keep it fresh. You can make a batch of colours and give away as kids' party bag favours or hold a playdough party for your child's next birthday.