This week's book is called The Snail and the Whale. Story by Julia Donaldson, illustrated by Alex Schaffler. This book is a much classic that shows us a restless young snail who has ambitions to travel the world. The other snails think that she should not go anywhere and stay safe on their rock, but the snail calls out for a lift to travel around the world. Eventually, her call is answered by a great big blue humpback whale!
The snail is delighted by the wonderful world around her, until she realizes how small this trip makes her feel. Then when the whale gets confused by the motorboats zooming on the surface, he loses his way in the shallows and ends up beached in an isolated bay. Suddenly, it's down to the tiny snail to rescue the powerless whale. They call the fire brigade and everyone works together to help the stranded whale. Free once more, the whale takes the snail back home, only to discover the other snails are inspired by the tale of the tiny Snail. So they set off all together, on the tail of the whale for a new epic journey.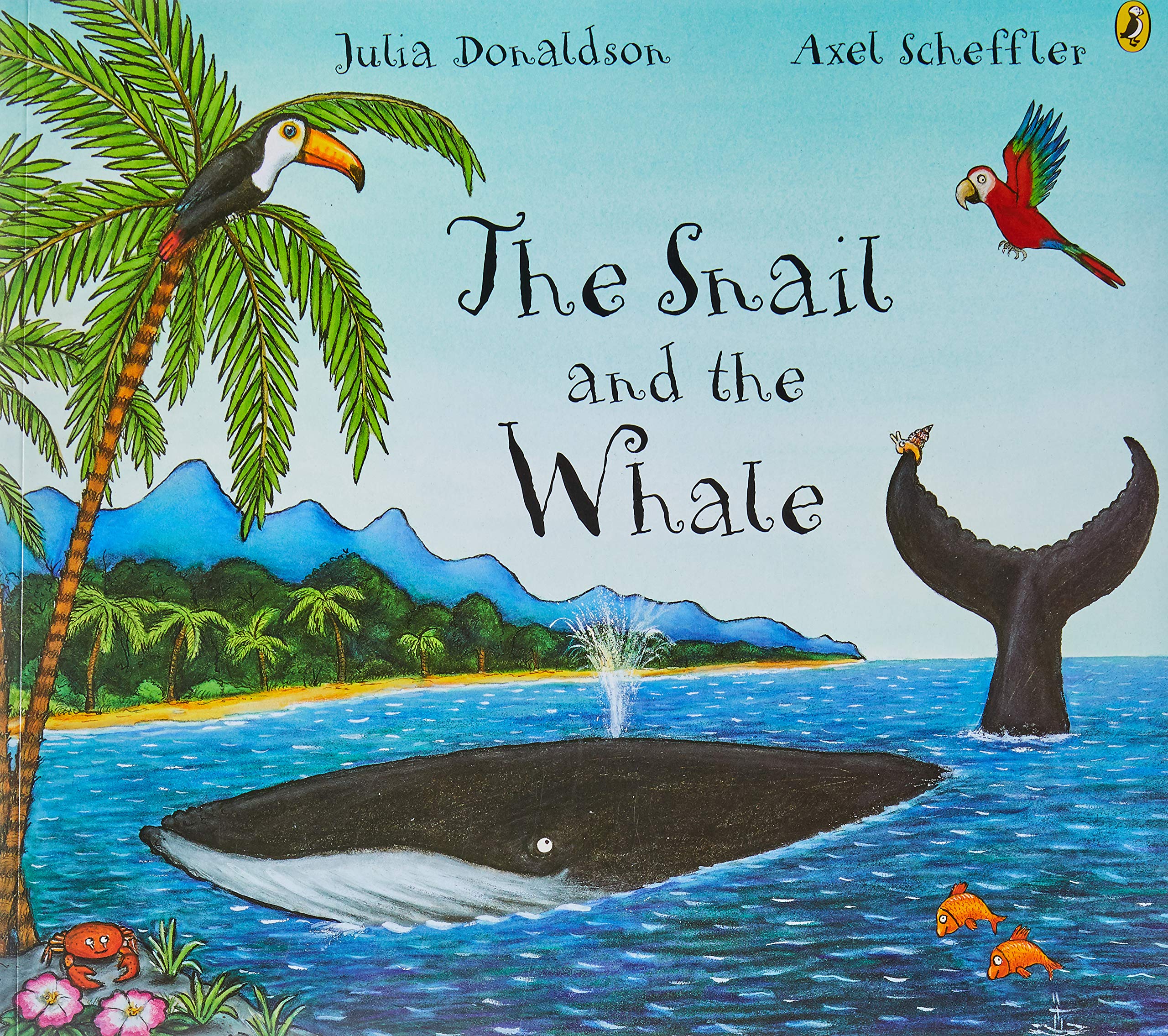 It is a little long story for the newborns, but this story will suit the preschoolers and older children. You can try to practise the below with your child.
The snail and the whale travel through many different regions of amazing scenery from Antarctic seas with icebergs to tropical islands with volcanos, through big waves to underwater caves. It is interesting to discuss with your child how the snail could have stayed on his rock and not seen any of these wonders.
You can discuss with your child the plight of the humpback whale. Talk about how it is one of the biggest animals in the world but was almost hunted to the point of extinction. Also that if people are not careful we might lose this magnificent creature.
There is a page in the book that features people on speedboats that create so much 'earsplitting roar' that the whale swims 'too close to the shore'. This is another interesting topic to cover with your child – the impact people have on wild animals.
The tiny snail manages to save his friend the humpback whale by writing a message to 'save the whale'. A valuable, moral lesson to discuss with your child – no matter how small you are, you can make a big difference to what happens.
Discuss the beautiful images with your child. Each double page spread is illustrated with great detail and has lots of points you can discuss. Try to find time to stop and point out the details to your child.
Here is the marvellous story on youtube: