| | |
| --- | --- |
| Posted on July 26, 2020 at 10:50 AM | |
Hello #kidzofkips!
This week we will continue one of Julia Donaldson classics, the legendary Gruffalo!
Last week, we got to know the writer of the books, but how about the illustrator? Shall we have a look at his profile?https://axelscheffler.com/who-is-he" target="_blank"> Let's check it out!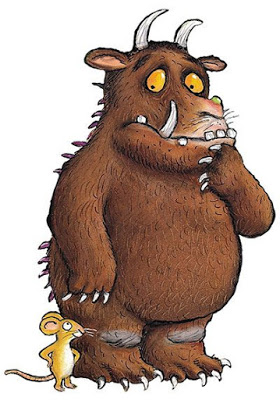 We are sure you will enjoy Gruffalo's adventure with the little mouse, who is apparently very very clever that makes everyone believe what they should believe.
You can have a look in Gruffalo's world from the link below. Just click Gruffalo's picture.
We are so amazed with this story. Its a great way to show our kids that it is possible to be brave and we do not have to be scared of any animal or anything that actually looks scary to us. What is important is actually what we believe.
Draw or paint your favourite character from the story. Think about what colours and shapes you should use.
Using lego or cardboard boxes have a go at making a house for the Gruffalo to live in. Can you explain to a grown up how you made it?
Using toilet roll tubes, have a go at making a log pile house for the snake, how many logs did you use?
The gruffalo was going to eat scrambled snake, could you make scrambled egg for lunch or make your own gruffalo crumble. Don't forget to count and measure the ingredients.
Have a discussion about woodland animals, can you think of any other animals the mouse might meet in the deep dark wood.