| | |
| --- | --- |
| Posted on December 6, 2020 at 9:45 AM | |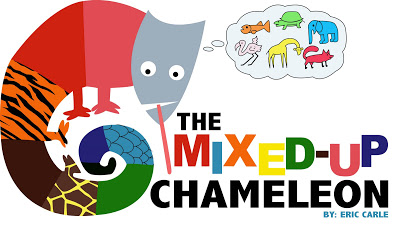 This week's book is Mixed Up Chameleon by Eric Carle. There once was a small green chameleon that wished to be handsome like a flamingo, smart like a fox, and funny like a seal. But with each transformation in size, shape, and color, the chameleon learns that maybe being yourself is best of all!
The Mixed-Up Chameleon is sure to delight little readers with its interactive art, funny antics, and heartwarming message. This board book edition is the perfect size for small hands and features sturdy pages.
This book allows you to create very easy and hands-on activities with your child. You can draw some chameleons and paint them, talk about the colors and put the chameleons near the same color items you can find in your house or your garden.
You can take out the parts of the animals and how they effected chameleon. Deer's horns, turtle's shell, wings of the flamingo, elephant's hose and the clapping hands of the seal and so on...
You can fill a sealed plastic bag with colors and mix them up to create your own colors of your chameleon.
You can watch some real videos of chameleon's catching the fly and talk about the facts of their tongues, how fast and strong is their tongue, and how it catches the fly.
Enjoy your read and activities with your little one and we will see you soon!
#kidzofkips #kipslibrary